I hope everyone enjoyed our beautiful Pacific Northwest summer! While I've been able to enjoy some of it myself, I've also stayed very busy as the housing market continued to be strong over these past two months. I thought it might be a good time for a market update so below you will find a few data charts for King and Snohomish Counties combined. These charts are a good representation of what's going on in north King and south Snohomish Counties including cities like Lake Forest Park, Kenmore, Shoreline, Bothell, Brier, Mountlake Terrace, and Edmonds.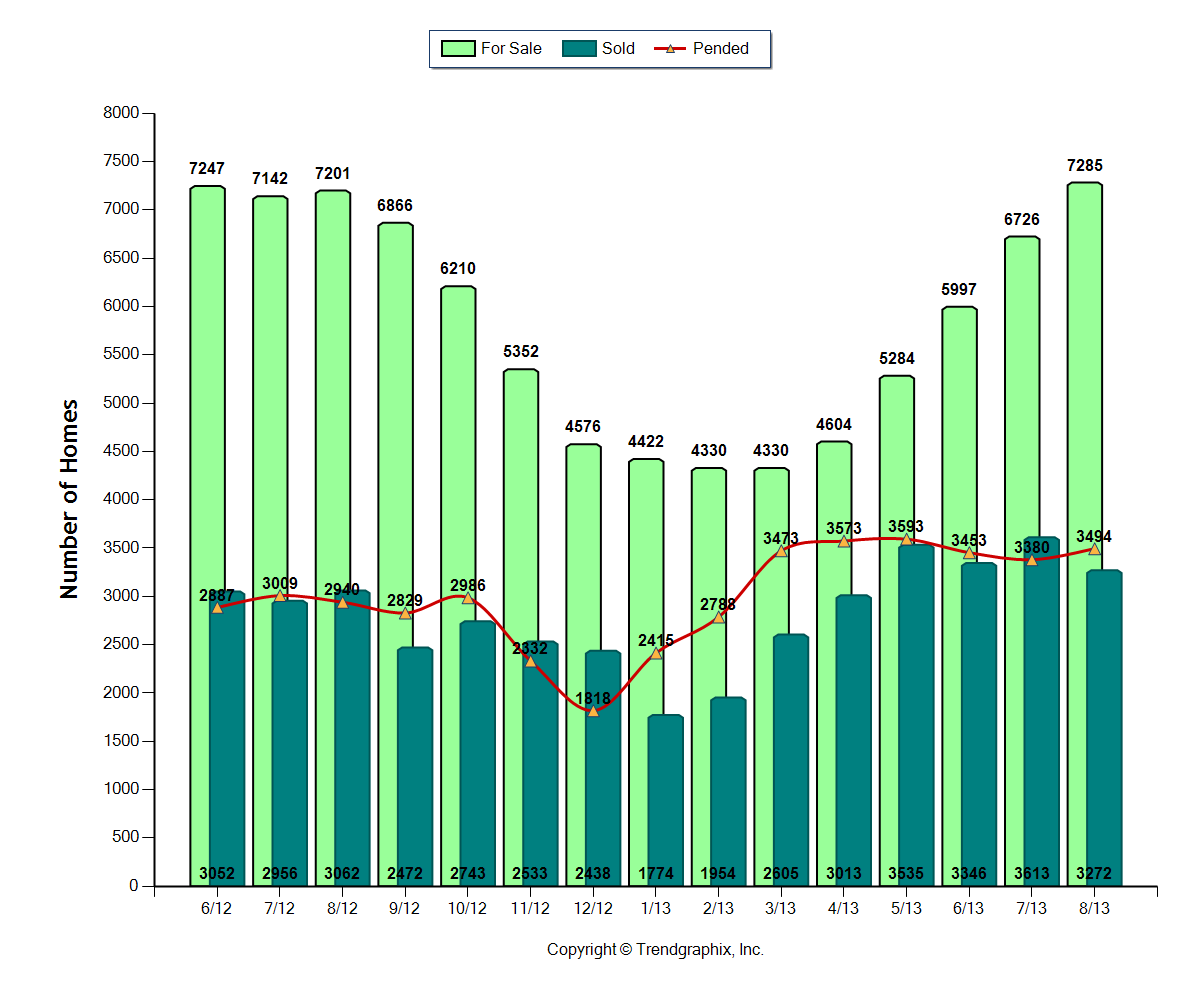 The inventory of active homes for sale is finally higher than at any point last spring or summer. However, it is still historically low at only 2.2 "months of inventory" which means it technically remains a seller's market. New listings and closed sales fell off a bit compared with July, but pending sales (homes placed under contract) did increase slightly from last month.
This graph shows the pop up in months of inventory to back over 2 months. Will it stay there or fall back down like it did last year going into the fall months?
Sold prices have appreciated very slightly from July to an Average of $466,000. This is up 12.8% compared to last August. More interesting is that the average Active asking price is coming down into more reasonable territory after a somewhat irrational exuberance by some sellers in the spring.
The average dollar per square foot value held basically flat since last month at $210/sqft.
The average selling price as a percentage of the original listing price is holding steady at 99%. There are still many multiple offer situations but that trend is cooling a bit.
The average consecutive days on market remains steady as well at 34 days.
To conclude, the market is still very strong, although it did level off in the late summer. The early fall months typically bring a new crop of buyers and sellers out who want to make a move before the holidays and the end of the year. It'll be interesting to see if that trend holds true once more. Stay tuned!
So far, the theme of 2012 is that there is definitely a lack of inventory. The housing market has been extremely busy in the low to median price ranges, but the upper middle to higher price ranges are starting to pick up steam too. The fact is, many buyers literally can't find good homes to buy! Low prices and extremely low interest rates have pulled a lot of buyers off the fence in the first two months of the year. More homes will come on the market as we get into spring but that should be met with more buyers as well. So, it is reasonable to expect brisk activity for at least the next several months.
Since pictures can often tell a better story than words, take a look at this "heat map" for King and Snohomish Counties. It shows how most every MLS area has gone from a "balanced market" with 3-6 months of inventory in February 2011 to a "seller's advantage" with less than 3 months of inventory as of the end of February 2012. Ignore most of the national news when it comes to housing because real estate truly is local. If you're thinking about making a move, Call a Realtor with experience who knows your neighborhood to get specific professional advice for your situation.